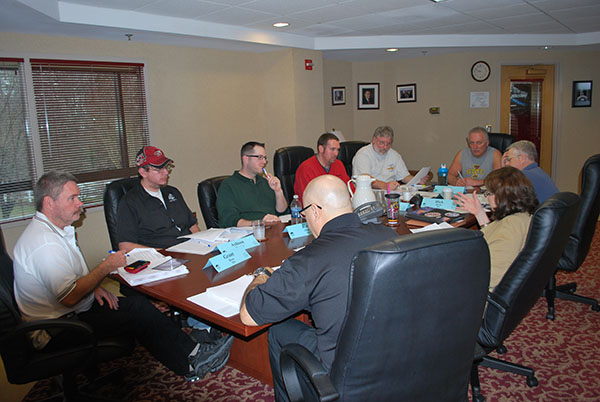 Members of the St. Paul, MN District 77/Local 737 Bargaining Committee (back row, left to right) Journeyman Mechanic/Steward Grant Ross, Light Duty Technician Ashton Bruder, Local 737 Secretary-Treasure/ Journeyman Mechanic Ross Olson, Journeyman Mechanic/Steward Eric Jorgensen, Local 737 President Charles O'Keefe, Journeyman Mechanic R J Habben, and IAM District 77 Assistant Directing Business Representative Rick Ryan take part in a bargaining simulation with (front row, left to right) WWW Education Representatives Edmundo Osorio and Rhonda Rogers, both playing the role of the company.
Members of the St. Paul, MN District 77/Local 737 Auto Dealers Bargaining Committee were among the latest groups to complete the Negotiation Preparation for Bargaining Committees Program at the William W. Winpisinger (WWW) Education and Technology Center in Hollywood, MD.
The week-long class is designed to help bargaining committees develop a constructive and unified approach to negotiations. The bargaining committee works together to produce tools and plans necessary for the specific negotiation they are preparing for through customized training modules. Training topics include how to draft contract language, present proposals, analyze the company's strengths and weaknesses, mobilize and communicate with members and more. The week culminates in a bargaining simulation – " the highlight of the program" – designed to give the bargaining committee a taste of the frequently-intense atmosphere at the bargaining table.
"The Negotiation Preparation program was a great opportunity for our bargaining committee to receive training, tips and insight from experienced IAM negotiators," said IAM District 77 Assistant Directing Business Representative Rick Ryan. "In working with WWW educators and departmental staff from the IAM Grand Lodge and Midwest Territory, our committee walked away with a better understanding of the negotiation process and with a strategic plan in hand."
The Local 737 bargaining unit is composed of approximately 580 members who work at auto dealerships across the St. Paul area. A recent survey of the membership indicated wages, job security, pension, sick leave and health insurance as the membership's top five priorities. The current contract expires April 30, 2016.
"The negotiating committee would like to send a huge thank you to the Stewards of the St. Paul Auto Dealers for distributing the contract surveys. We received a 91 percent response rate" –  the highest we've ever seen," said IAM Local 737 President Charles O'Keefe. "Our members showed us that they are engaged and ready for this upcoming negotiation. And so is our committee. Thank you to all the instructors and IAM staff who helped in the preparation for our upcoming negotiations. The Negotiation Preparation class is indeed one of the best member resources made available by our union."
For frequently asked questions about the negotiation process, visit the IAM Local 737 Negotiating Survival Handbook.
For updates on the negotiations, visit www.iam737.org or follow the IAM District 77 Facebook page.
For instant updates, text "IAMAuto" to 55000 to receive text message updates to your mobile phone (standard message and data rates may apply).