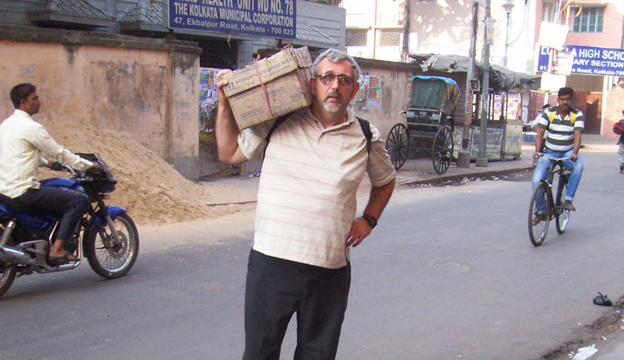 IAM Local 447 member Ray O'Brien founded Children are Angels from Heaven, a non-profit which collects donations and supplies to help impoverished orphans and children in India.
For IAM Local 447 member Ray O'Brien, what started as a simple wish to improve one child's life has grown into a community effort and a non-profit organization that helps hundreds of poor children. The Medford, MA truck mechanic founded Children are Angels from Heaven after a family visit to Calcutta, India.
When his 6-year-old adopted daughter Joanna began asking questions about her birthplace, the Ryder truck mechanic and his wife, Patty, decided they would take a family visit to Joanna's birthplace.
"My first trip was something that I will never forget," said O'Brien. "Many of the things I took for granted, such as a house to live in, good schools for my kids, or just clean hot and cold running water don't exist for many."
Now, nearly 20 years later, O'Brien dedicates three weeks of vacation time each year to visit India and personally deliver desperately needed supplies to orphanages and schools. In addition to these supplies, Children Are Angels has paid for cleft lip and eye surgery for disabled children O'Brien has met on his travels.
O'Brien has been recognized by his employer's top brass, Ryder CEO Robert Sanchez, and in 2015 was one of 55 people named "Heroes of the 500" by Fortune 500 business magazine.
"It takes a lot of people to make this possible, I'm just the person who puts all of their efforts together," said O'Brien. "I've been a union member for 32 years. I'm always amazed at the generosity of my co-workers, their families, and our community. Many are struggling themselves, but they always find a way to help others who are struggling even more."
"We're proud of the work Ray continues to do. It is truly a labor of love, and he is an extraordinary person," said Local 447 Assistant Business Manager Russell Gittlen. "He embodies the spirit of the IAM motto 'service to the community, caring for others,' only he does it every day of the year."
Ray and Patty O'Brien have adopted two girls, Joanna and Melissa, and have since adopted a third child from India, a severely handicapped boy they have named Raymond.
Read more about O'Brien and Children are Angels from Heaven in this District 15 newsletter article.