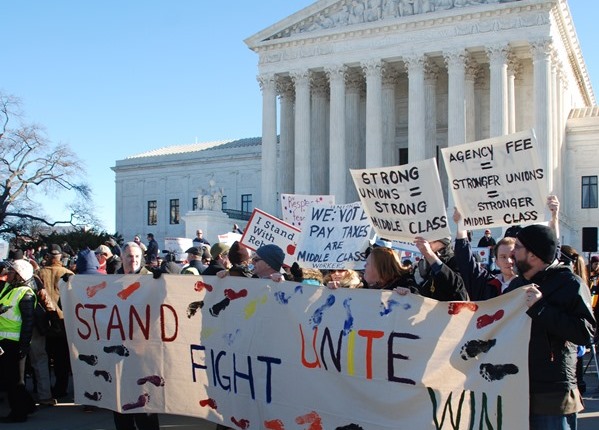 Several hundred union members protested at the U.S. Supreme Court in January against a case that would have prevented public sector unions from collecting fair share fees from workers who opt out of their union.
A corporate-funded legal effort to gut unions has died. The eight-member U.S. Supreme Court said Tuesday it was split four to four in a case challenging fair share fees collected from workers who choose not to join the union at their workplace but still fall under the union's collective bargaining agreement.
The case, Friedrichs v. California Teachers Association, involved public-employee unions, but would have greatly diminished the bargaining power of all workers and their unions.
IAM General Counsel Mark Schneider explained the case in this Machinists News Network video: "[The plaintiffs] claimed that everything, even collective bargaining, is basically political speech… it's really a life or death case."
The plaintiffs, backed by a legal team funded by special interests, were looking to make the entire public sector "right to work." Workers and unions caught a break when Supreme Court Justice Antonin Scalia, who was expected to rule against the union, died in February. The split decision means the case reverts to the lower court's decision, which sided with labor and over 40 year of precedent.
"I have no doubt they're going to come right around after us next," said Schneider. "It will be slightly different arguments in a private sector context, but there will be an effort in the private sector to make the entire private sector right to work."
Learn more about the Friedrichs case from America Works Together.