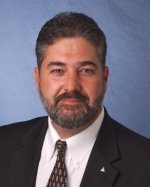 The IAM immediately responded to the Obama administration's signing of the Trans-Pacific Partnership (TPP) in New Zealand this week. The deal remains deeply flawed and bad for workers around the world, IAM International President Bob Martinez said in a statement.
Congress still has to approve the TPP for the U.S. to officially sign on to the pact.
"We are deeply disappointed by the announcement of today's signing of the Trans-Pacific Partnership, which by all accounts will increase the U.S. trade deficit and lead to the export of more family wage American jobs," said Martinez. "The TPP fails to include the International Labor Organization Conventions which explicitly define basic labor rights."
Click here to read Martinez's full statement on the TPP signing.
The TPP, one of the biggest multinational trade deals in history, was signed by 12 Pacific Rim member nations. The massive pact, which was secretly negotiated for more than five years, will cover more that 40 percent of the world's economy.
The IAM, and many in Congress, have been outspoken opponents of the deal and its anti-worker, corporate-driven rules and unprecedented scope. Many of its policies go far beyond NAFTA and its devastating results.
"We must reject this agreement because it stacks the deck against working families," said U.S. Rep. Rosa DeLauro (D-CT). "We must reject trade policies that will destroy jobs, slash wages and give corporations even more unencumbered power."
WATCH: A Strong Stand Against TPP
"I want you to hear me loud and clear," said IAM Legislative Director Hasan Solomon. "Any member of Congress-whether you're Democrat or Republican-any member that supports the Trans-Pacific Partnership agreement, don't call the Machinists Union for any political contributions. Don't call for help or support during election season. You need to call Vietnam where you're sending our damned jobs."
Contact your member of Congress and tell them to vote NO on the TPP.